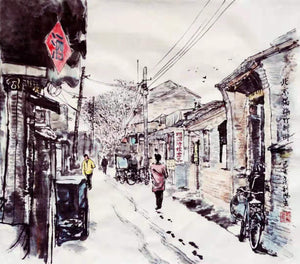 A respected Chinese painting artist from Beijing, Mr. Peng Liu is one of a few artists focusing on Beijing's HuTong paintings.  He was recognized for creating an unique style combing traditional ink and wash freehand with fine brush depiction of details.  
This painting shows a lively winter scene of YangMeiZhu HuTong.  Historically, YangMeiZhu was famous for being a cultural center with well known scholars used to live here.  It was also a business center for publication and book industry.  During the past century, more people moved into HuTongs to share the courtyards making this HuTong a busy residential place with small stores serving the locals.

Peaceful but full of breath of life, this painting depicts details such as red sign of "Liquor" for a small restaurant, snow footprints left on the ground,  a bicycle for resident's daily commute and grey tiles of HuTong.  Full of history, vintage style, and elegancy, this painting is just distinctive and beautiful.  In this painting, we see heavier weight given by the artist to use delicate brush touches for details on top of his freehand style, giving a great match to cultural atmosphere shared by this HuTong.  
2019,  W: 70cm(27.5") | H: 55cm (21.5")

Reproduction Edition: 1/10

Fine Art Giclee Printing 

Artist signed Certificate

Unframed
Est. Shipping: $50.  Lead time 2-3 weeks.