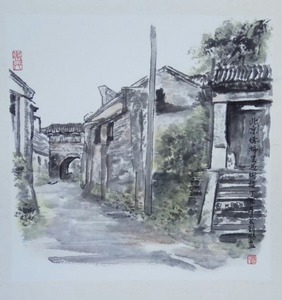 A respected artist from Beijing, Peng Liu is one of a few artists in China focusing on Beijing's HuTongs.  He was recognized for creating a unique style in HuTong paintings combing freehand ink and wash with details depiction by brushes.  
This original painting, RuFuLi, depicts the appearance of a HuTong used to locate in central old Beijing.  As cultural icon of the city, HuTongs represent local residential life and also tell stories of the city that has been a capital of six dynasties.  Almost each HuTong has its own anecdotes.  RuFuLi was formed in late 18th century used to be a pig trading center in Qing Dynasty.  The HuTong and several key constructions such as a GuanYin Temple and the only ancient cross-street bridge of Beijing were demolished during past decades.  RuFuLi has been transferred into a high-rise residential community, a school and a hospital.  People may only memorize it through old photographs or paintings.       
Like the other paintings of Peng Liu, this one was mainly created using a freehand style with loosely lines to reveal the image.  Leaving white, or blank, is critical technique of Chinese painting, sending a room for people to imagine instead of full expression by the artist.  In this painting we see intentional and skillful blank presence by the artist through carefully rendered edges of the surrounding landscape.
2017,  W: 40cm(15.74")  |   L: 40cm(15.74")
Original 
Rice paper on professional art paper base mat
Artist signature and stamp
Unframed
Shipping:  Arrive in 1-2 weeks to Continental US.